A Jewish-Muslim dialog about; "Where do we go from here"
Posted by: MFT admin
Books Launching by Muslim Facing Tomorrow
Posted by: MFT admin
Khashoggi Affair — the Bigger Picture-
Posted by: MFT admin
RAHEEL RAZA Thursday, October 25, 2018
The Khashoggi affair
 has caught the Saudis with their pants down —
or their 
thawb 
(that long dress Saudi men wear) up.
What facts do we know?
Journalist Jamal Khashoggi entered the Saudi Consulate in Istanbul on October 2, 2018 and never came out. Of ...

Continue Reading
Trump's ban on Muslims: The discussion the media wont have- Salim Mansur
Posted by: MFT admin
Post-Ramadan Reflections on the Muslim World- Salim Masur
Posted by: MFT admin
The Atrocious Scandal of the UNESCO Vote on Jerusalem
Posted by: MFT admin
"Carry the Light"…of Hate. Coming Soon to Toronto
Posted by: MFT admin
Yesterday I was asked by an interviewer how radicalization takes place, and I spoke about hate being ...
Continue Reading
Daring to Care in London
Posted by: MFT admin
In an atmosphere of extreme political correctness when former UK foreign secretary Boris Johnson is under fire for criticizing the ...
Continue Reading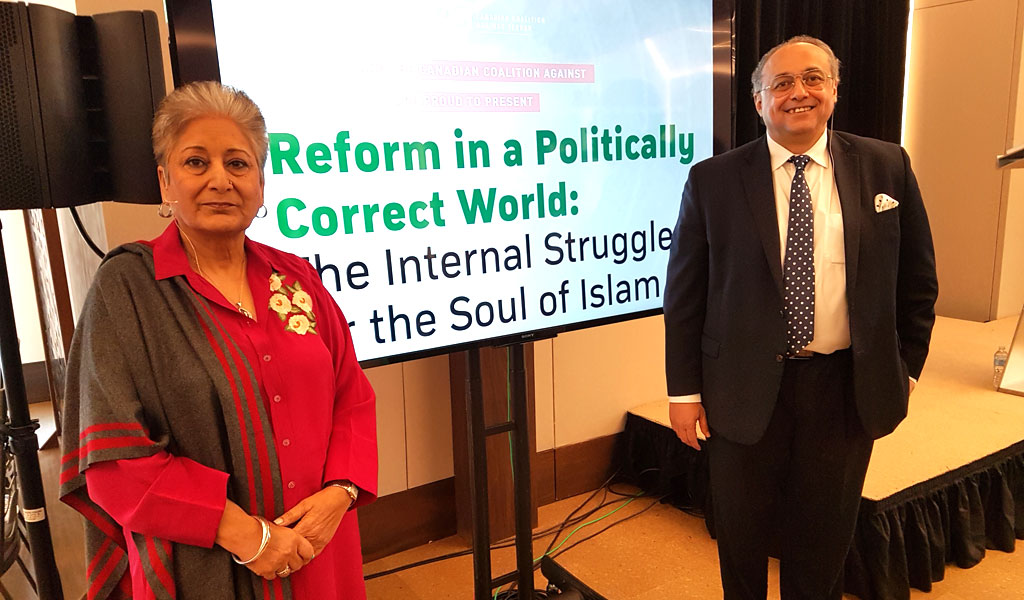 A revolution in Aspen, Colorado took place August 8, 2018.
The event was a meeting of modern Muslim minds titled "Reform in a Politically Correct World." I would be understating this to say that it was "mind blowing."
Hosted by the JCC (Jewish Community Centre) and CCAT (Canadian Coalition Against Terrorism) with generous donors, it was attended by over 250 people who ...
Continue Reading
"Where do we go from here"
Posted by: MFT admin

THE COUNCIL FOR MUSLIMS FACING TOMORROW IN PARTNERSHIP WITH
HEW (HOLOCAUST EDUCATION WEEK)INVITES YOU TO
A JEWISH-MUSLIM DIALOGUE ABOUT
"WHERE DO WE GO FROM HERE"
(Panellists: Prof. Salim Mansur, Guido Smit, Raheel Raza, Ran Meir)
ON MONDAY NOVEMBER 5, 2018
FROM 11 AM TO 1 PM
AT
RICHVIEW LIBRARY (FIRST FLOOR MEETING ROOM B)
1806 Islington Avenue, Toronto, ON  M9P 3N3
Elevator and parking available.
TTC accessible (https://www.torontopubliclibrary.ca/richview/)
RSVP: Syed Raza                           or                      ...
Continue Reading