Dr. Qanta Ahmed
'We belong to Allah and to Allah we shall return'. Muslims around the world, including me, are now reciting the verse from the Quran that Muslims say on hearing of the death of a fellow believer. Taking in news of the murder of 49 worshippers at a mosque in sleepy, safe New Zealand at the hands of a white supremacist, this verse ...
Continue Reading
Majid Nawaz condemned terror attack of New Zealand
Posted by: MFT admin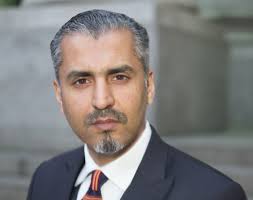 Majid Nawaz of Quilliam
A horrific far-right terrorist attack kills 49 of my fellow Muslims at 2 mosques in NZ. My heartfelt condolences to the families. البقاء للّٰه
I'm devastated. Please let's resist the urge to turn on each other and blame each other. That's precisely what the terrorist wants, and I suspect why he wrote his bloodthirsty screed. My Muslim brethren, this is an attack on our identity. I know that ...
Continue Reading
Dr. Zuhdi Jassar condemned New Zealand's terror attack
Posted by: MFT admin
Prayers for the families of all the victims of this heinous act of terror. May all those that committed this horror be swiftly brought to justice. Together humanity will overcome all threats to individual religious freedom.
Dr. Jasser is in Australia and will be giving a ...
Continue Reading
Raheel Raza condemned cowardly act of terror in New Zealand
Posted by: MFT admin

We condemn this cowardly act of terror
in the strongest terms. Whenever there is
an attack on a place of worship, whether
Mosque, Synagogue, Church or Temple –
it is an attack on God.
Violence is NEVER the solution to any problem.
While we condemn ISIS, Al Qaeda, ...

Continue Reading
Raheel Raza's apears on "The Laura Ingraham Show"
Posted by: MFT admin